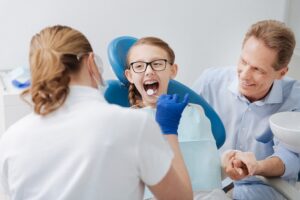 Dentists and Orthodontics have a funny schedule. They tend to be busier in the summer, since kids are out of school and more readily available to make it to their appointments. It's a win for kids getting braces, because they have time before school starts to get used to wearing them.
They also get busy in the beginning of the school year, as families scramble to get it all done, and utilize their insurance benefits effectively.
So get onboard early, and start planning for your family's orthodontic care now!
Planning Orthodontic Treatment for Your Family
If you have children that need orthodontic treatment, the sooner you get them scheduled for an appointment the better. We understand that families lead hectic lives. There are so many responsibilities and challenges, and getting it all done sometimes seems like an impossible feat.
One of best things about Jennifer Martin Orthodontics is their family focused philosophy. They treat a whole range of patients- from toddlers to elders! In fact, they are a multi-generational practice. Some of their patients have parents who received care there when they were kids!
What this means for you, is a one stop shop for the whole family to receive expert, compassionate, and thorough orthodontic care!
It is recommended that children see an orthodontist by the age of 7 for a check-up. Even if your child's teeth look straight, there may be issues that are invisible to the eye. And when it comes to orthodontic care, the sooner you get started, the better.
The longer you wait to address orthodontic issues, the more severe those issues may become. You will save time, money, and hassle by getting your child started with preventative care as soon as possible.
Orthodontics Care for Adults
More adults than ever are seeking out orthodontic care. Straight teeth aren't just about aesthetics-they help to facilitate a healthy mouth, and therefore body in general. Straight teeth ensure a proper bite, meaning no unnecessary wear and tear to your teeth. Straight teeth also mean that your jaw is strong and healthy. Straightening and evening out your teeth now can ensure less problems as you age.
With advancements in technology, as well as the introduction of Invisalign aligners, more adults can fit orthodontics into their busy lifestyles. Just because you're not a kid anymore doesn't mean you don't deserve a beautiful smile!
Family Focused Care
Jennifer Martin Orthodontics treats patients of all ages! Kids love the fact that their parents went to the same Orthodontist practice, and adults know that their kids are getting the best treatment-their own smiles are the irrefutable proof!
If you or your kids are in need of friendly, helpful, family oriented orthodontic care, look no further! We have experts standing by to answer any questions you may have, whether they're about treatment options or financial issues. We will work with you to ensure that you get the best care possible, while meeting your financial and time management needs.
Give us a call today at (925) 676-8485! Our Pleasant Hill office serves patients from Walnut Creek to Martinez, and all of the surrounding communities.