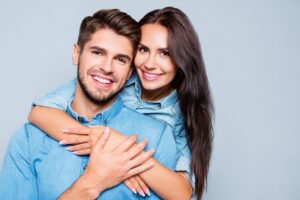 Many of us remember in years past it was typical for pre-teens to start seeing the orthodontist and get wire braces during their early teenage years. Times have changed.  Today it is important to know that orthodontic treatment is an important part of your oral health care at any age. When jaws and teeth line up correctly, they are able to function as nature intended. This promotes oral health and general physical health.  Teenagers and 20-somethings are great candidates for correcting alignment issues in their teeth & bite.  The most notable change over the past couple decades are that middle-aged and seniors are seeing the orthodontist more than ever.
When Did Adults Start Seeing the Orthodontist?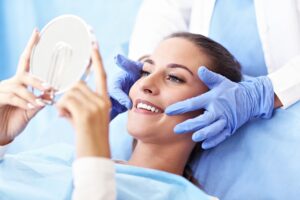 Invisalign® clear aligner orthodontic treatment was introduced in the 2000's and revolutionized the way adults thought of straightening teeth.  Traditional wire & bracket braces were replaced with removable clear aligners.  No longer would adults 'look like a teenager' with a mouth full of braces.  Orthodontists found that more and more adults were requesting Invisalign by name and the results were incredible. Invisalign became an overnight sensation and has continued to revolutionize adult orthodontic treatment. Many adult patients wore traditional braces as a teen, but have seen their teeth crowd or move in the following decades. Invisalign can be an excellent option for these types of people, and treatment can be much quicker than their first experience with braces.
These days working professionals are using video & virtual calls to conduct business.  Our smiles are now on display more than ever to our colleagues & clients.  Working professionals understand how important it is to have an attractive & confident smile. When your teeth function properly the achieve a strong, balanced appearance. An attractive smile is a result of orthodontic treatment, and can do wonders for confidence.
Orthodontics for Total Body Health
Maintaining total body health is especially important as we get older.  Dental and oral health is a critical part of total body health.  Orthodontic treatment brings teeth, lips and face into proportion. Straight teeth are less prone to decay, gum disease and injury.
Most orthodontic problems are inherited. Some are "acquired," developing over time by sucking the thumb or fingers, mouth breathing, dental disease, abnormal swallowing, poor dental hygiene, or early or late loss of baby teeth, accidents and poor nutrition. Sometimes an inherited orthodontic problem is complicated by an acquired problem. Whatever the cause, orthodontists are usually able to treat most conditions successfully no matter your age.
Are You A Candidate for Orthodontic Treatment?
What will determine if you are a good candidate for orthodontic treatment, then, will not be your age; it will be your current state of periodontal health ("peri" – around; "odont" – tooth), your general health, and what type of problem you are trying to fix. Periodontal (gum) disease, which can lead to the loss of tooth-supporting bone, is more prevalent in adults than in adolescents. This is an important consideration because orthodontic treatment works by gently moving teeth within the bone that supports them. And orthodontic treatment in the presence of periodontal disease can aggravate the disease and make it worse. While bone loss does not preclude successful orthodontic treatment, it is essential that any existing periodontal disease be brought under control before treatment begins.
All Kids Should Get A Checkup with an Orthodontist No Later than Age Seven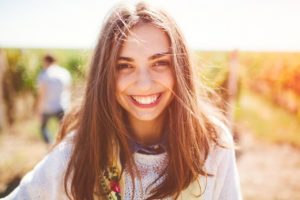 To have a healthy smile that's good for life®, your child needs teeth and jaws that are properly aligned. The American Association of Orthodontists (AAO) recommends that your child get a checkup with an orthodontist at the first recognition of the existence of an orthodontic problem, but no later than age seven. By then, your child has enough permanent teeth for an orthodontist to determine whether an orthodontic problem exists or is developing. Putting off a checkup with an orthodontist until a child has lost all baby teeth could be a disservice. Some orthodontic problems may be easier to correct if they're found early. A checkup no later than age seven gives your orthodontist the opportunity to recommend the appropriate treatment at the appropriate time. If early treatment is in order, the orthodontist may be able to achieve results that may not be possible once the face and jaws have finished growing.
If you have any questions or concerns throughout your treatment or in the future, please consult your orthodontist or visit mylifemysmile.org.
Have You Missed Appointments?
If you have missed appointments during the past couple of months, we are here for you & want to get your caught up. We are contacting patients about re-scheduling. You can also take the proactive step to contact us to schedule at your convenience. We make every effort to move your appointment in a timely manner, but you should expect a slightly longer appointment than before due to safety protocols.
We are incredibly happy to be open to serve the oral care & orthodontic needs of our patients from the greater East Bay Area. Our updated safety protocols, disinfecting procedures & personal protective equipment ensure visits to our office are safe.  We are following the ADA.org Guidance, CDC.gov & CDA.org COVID-19 Updates. When you & your children return to our office you will see our enhanced safety features & personal protective equipment is action.
Creating Generations of Smiles Through A Legacy of Personal Care and Heartfelt Service!
Dr. Jennifer L. Martin and our team love transforming lives, one smile at a time. We work one-to-one with each patient to determine their clinical needs and care goals, and then develop individual treatment paths to create their healthy new smile.
We offer complimentary consultations for you and your family at our Pleasant Hill, CA orthodontic office, serving Martinez, Concord, Walnut Creek and Lafayette. Please call to learn more and schedule your consultation, today.
Dr. Martin and everyone at Jennifer L. Martin, DDS, look forward to welcoming you to our practice. We would love to develop a long-term relationship with you, while making the beautiful smile of your dreams a reality!
Jennifer L. Martin, D.D.S.
401 Gregory Lane, Suite 126
Pleasant Hill, CA 94523
Phone: (925) 676-8485
Email Martin Family Orthodontics
Leave a Reply