Does My Child Need Their Wisdom Teeth Removed for Braces or Invisalign?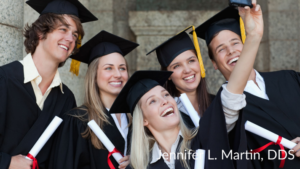 A tooth extraction for wisdom teeth may be something your dentist recommends. The most common age to have wisdom teeth removed is between 16 and 20. Some children require their wisdom teeth removed as early as 12 years and other children are well into their adult years before needing to consider wisdom teeth removal.
Regular dental check-ups and X-rays can help monitor wisdom teeth growth and identify potential reasons for wisdom teeth removal, which may include:
IMPACTED TEETH – Wisdom teeth can become impacted and may not have enough space in the back of the mouth to come in normally, causing them to be stuck in the jawbone. This can cause significant pain and discomfort for your child.
WRONG ANGLE – Wisdom teeth can sometimes come in at the wrong angle and press against other molars.
NOT ENOUGH SPACE – The jaw, particularly of a younger teenager, may not physically have enough room for this final set of molars so a tooth extraction may be necessary.
CAVITIES & GUM DISEASE – Since located so far back in the mouth, wisdom teeth can be hard to properly brush and floss, allowing for plaque buildup. Over time, this can lead to decay.
ORTHODONTIC WORK – If braces are in your teenager's future, your Orthodontist may suggest having their wisdom teeth removed first to avoid the risk of the final molars coming in during their treatment and disrupting the treatment plan.
Our Approach to Orthodontics at Jennifer L. Martin, DDS
At Jennifer L. Martin, DDS, everything we do is focused on our patients. Dr. Martin and our team know your needs and concerns are as unique as your smile. That's why we refuse to use a "one-size-fits-all" approach to orthodontic care. Instead, we will work with you to determine the right treatment for your specific situation.
You will never be another number on a chart or set of teeth in the chair to any of us. We take pride in getting to know each patient as a person, building a long-term relationship with them. We want to learn about interests, celebrate your achievements, and share in your life.
Each of us is a people-person, and we thrive on our conversations with those in our care. We feel fortunate to spend our days creating life-changing smiles for our friends and would love to create such a smile for you!
Jennifer L. Martin, D.D.S.
401 Gregory Lane, Suite 126
Pleasant Hill, CA 94523
Phone: (925) 676-8485
Email: martinorthodontics@att.net