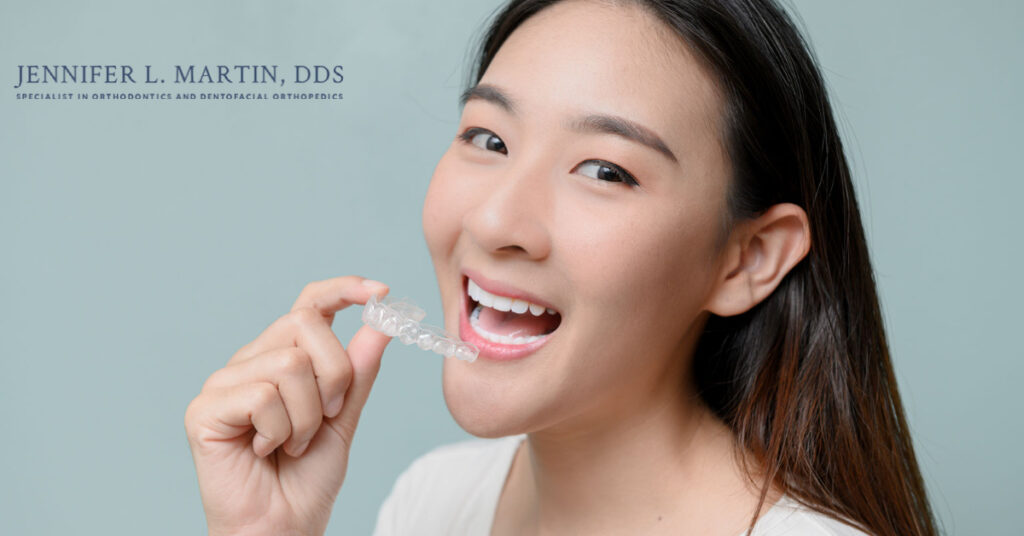 Yes, as long as your retainer doesn't hurt and still fits over your teeth, you can wear it – even if it feels tight. Your teeth may have slightly shifted, and you may need to wear your retainer longer each day to prevent your teeth from moving.
Try wearing your retainer full-time for a few days to encourage your teeth to move back into their correct positions. If the retainer continues to feel uncomfortable, contact your orthodontist to determine the next steps.
What if the retainer doesn't fit at all or is painful?
No. Contact your orthodontist, who will evaluate your situation and determine what actions, if any, are needed. It could be as simple as making a new retainer or, if necessary, making some clear aligners to tweak a tooth or teeth back into proper position. Watch 'How to Put on Retainers the Orthodontist Way' below...
Trust an AAO Orthodontist like Jennifer L. Martin, DDS
You can work with an American Association of Orthodontists (AAO) Orthodontist to achieve a healthy, beautiful smile at any age. Orthodontists are experts in orthodontics and dentofacial orthopedics – properly aligned teeth and jaws – and possess the skills and experience to give you your best smile.
Creating Generations of Smiles Through A Legacy of Personal Care and Heartfelt Service!
Dr. Jennifer L. Martin and our team love transforming lives, one smile at a time. We work one-to-one with each patient to determine their clinical needs and care goals, and then develop individual treatment paths to create their healthy new smile. We appreciate parents who understand the importance of getting their children a proper start towards a lifetime or oral & orthodontic health.
We offer complimentary consultations for you and your family at our Pleasant Hill, CA orthodontic office, serving Martinez, Concord, Walnut Creek and Lafayette. Please call to learn more and schedule your consultation, today.
Dr. Martin and everyone at Jennifer L. Martin, DDS, look forward to welcoming you to our practice. We would love to develop a long-term relationship with you, while making the beautiful smile of your dreams a reality!
Jennifer L. Martin, D.D.S.
401 Gregory Lane, Suite 126
Pleasant Hill, CA 94523
Phone: (925) 676-8485