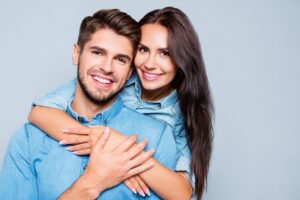 You've probably heard of Invisalign®- it's likely you know someone going through treatment. But what you may not know is that they're a great treatment option for people of all ages, not just teenagers. In fact, the Men in your life may benefit the most from this method of straightening your teeth.
Read on to learn more about Invisalign, and if it might be right for you or the man in your life!
A Discreet Way to Enhance Your Smile
Invisalign consist of clear aligners that are specially crafted to fit perfectly over your teeth. When you wear them, they work to slowly shift your teeth into the optimum position. As one set of aligners finishes their job, a new set will be prescribed for you. You can arrange for the aligners to be shipped to you so that you don't have to make as many trips to the orthodontist's office.
Invisalign is great for professional working adults. They are clear, and virtually unnoticeable to other people. You can take them out in order to eat and clean your teeth, something you can't do with metal braces.
Is Invisalign Right for Me?
If you have a mild to moderate case of malocclusion, Invisalign might be the right treatment option for you. For more severe cases of misalignment, or uneven teeth, a more aggressive treatment may be necessary.
You do have to be diligent about wearing the aligners. They only work when you wear them, and they should be worn for up to 22 hours a day. So if you can adhere to these rules and compliance issues, you should be successful with Invisalign Treatment.
The fact that they're almost invisible is a big selling point for professional adults. No one wants to head a big meeting with shiny metal braces taking over the show! More adults than ever are taking advantage of this subtle and discreet way of undergoing orthodontic treatment.
Jennifer Martin Orthodontics-A Family Oriented Practice
Jennifer Martin Orthodontics is a legacy practice. She purchased the business from her father years ago, and likes to explain to people that she literally grew up there!
There are many current patients whose parents received care there, and you can feel the difference as soon as you walk in the doors. Dr. Martin and her team are genuinely invested in their patients and their health and wellness.
Community is important to this practice, and you will often see them participating in local science fairs, as well as little league teams and candy buyback programs. It's not just about your teeth-your lifestyle and overall health matters too.
Because they are a family oriented practice, Jennifer Martin Orthodontics understands the hectic lifestyles of families. They will work with your schedules, and even try to ensure that everyone in treatment can get in on the same days for their appointments.
So if you're a professional adult looking to enhance your smile without invasive or obtrusive procedures, consider Invisalign. And definitely consider making Jennifer Martin Orthodontics the place you do it. Located in Pleasant Hill they serve patients from Walnut Creek, Martinez, and San Ramon. Schedule today at (925) 676-8485. The whole family is welcome!