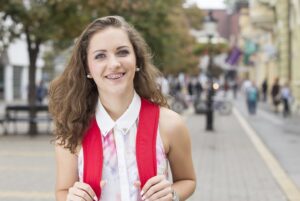 School is back in session, and things are about to get crazy! Are your orthodontics appointments scheduled? It's best to plan ahead for orthodontic treatment, as things tend to get busier and busier as the school year rolls on.
Orthodontics for Kids
People tend to think of teenagers when it comes to Orthodontic care, and teen years are a good time for orthodontics. Teens teeth have grown in, but they're still developing their bones and facial structures and it makes it easier to adjust teeth into their optimum positions.
However, it is recommended that children do see an orthodontist by the age of 7. Even if your child's teeth look straight and even, there may be potential problems that only a trained orthodontist can spot.
The best thing about spotting problems early on is having the ability to fix it before it becomes more problematic in the future. Preventative care tends to be easier and less expensive!
So get your kids in early. Jennifer Martin Orthodontics treats families of all ages, including the kids still in their single digit years!
Orthodontics for Teens
There was a time that teenagers and Orthodontics meant just one thing-Braces. And while many teens still wear braces (they are an excellent treatment option), we can now offer Invisalign® aligners. Invisalign has made orthodontic treatment more practical for many people, including teenagers.
With this age of social media and selfie culture that we're in the midst of, teenagers are less enthusiastic about having a mouthful of chunky metal braces. Invisalign aligners are clear, practically invisible, and this is a major selling point.
Invisalign has other benefits too though, such as the ability to take them out in order to eat and clean your teeth. They are comprised of less hardware than braces, so less potential for breakage and damage.
Schedule with Jennifer Martin Orthodontics and see if Invisalign may be right for the teenager in your life!
Orthodontics for Adults
Orthodontics aren't just for kids! More adults than ever are seeking out orthodontic care, partially as a result of Invisalign coming out, but also because people are coming to understand that the health of your mouth affects the health of your body. And as you get older you want to keep your body as healthy as possible!
When your teeth are straight and even, it's easier to keep your gums clean and healthy. Unhealthy gums can lead to periodontal disease, and more serious health issues later on down the line.
Another benefit to straight teeth as an adult is less wear and tear. When you're biting down properly because your teeth are straight, you're not crashing your teeth into each other unnecessarily. This means your teeth will stay healthy and strong for years to come.
Schedule with Jennifer Martin Orthodontics Today!
Jennifer Martin Orthodontics is a Legacy Practice. That means Dr. Martin literally grew up in this office! She purchased the business from her father years ago, and many of their current patients have parents who were patients way back when!
Family and community are important to Dr. Martin and her team. They really take the time to get to know each of their patients, and understand their goals and reasons for seeking out treatment. You will never feel like "just another body" in the chair here, you may become one of the family if you're not careful!
Locate in Pleasant Hill Jennifer Martin Orthodontics serves patients from all over the Bay, including Walnut Creek, Martinez, and San Ramon. Give their office a call today at (925) 676-8485 and schedule your appointment for the whole family!