Can Pacifiers and Thumb Sucking Affect My Child's Teeth?
Thumb sucking or pacifier use is one of an infant's natural reflexes, prolonged sucking can exert force on the teeth and jaws.  If your child sucks a thumb, finger, pacifier, or lips, their teeth or jaw growth may be affected.  Bone changes can actually occur as early as 18 months.
Common orthodontic problems caused by prolonged thumb sucking or pacifier use can include:
Protruding front teeth: front teeth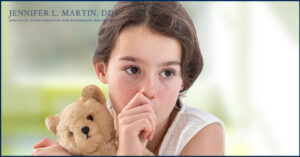 that stick out ("buck" teeth). Protrusive front teeth may make it hard to comfortably close the mouth and lips, cause speech problems, and make them more susceptible to trauma.
Open bite: when the upper and lower front teeth do not overlap, which can create swallowing or speech problems.
Crossbite: upper teeth that fit inside the lower teeth. If not corrected, the jaw can shift to one side causing lopsided jaw growth.
What to do if you notice prolonged thumb sucking or pacifier use
Consult your AAO orthodontist. They will be able to identify any orthodontic related issues caused by the oral habit and can offer early treatment options to help your child break the habit and correct any problems that may have occurred. Orthodontists have been specifically trained in dentofacial orthopedics. In other words, they can help jaws grow and develop in better positions.
Correct harmful oral habits
Guide jaw growth
Lower the risk of trauma to protruded front teeth
Guide permanent teeth into better positions
Trust an AAO orthodontist like Jennifer Martin, DDS
You can work with an American Association of Orthodontists (AAO) Orthodontist to achieve a healthy, beautiful smile at any age. Orthodontists are experts in orthodontics and dentofacial orthopedics – properly aligned teeth and jaws – and possess the skills and experience to give you your best smile. Find an orthodontist near you at https://aaoinfo.org/locator
Jennifer L. Martin, DDS Specializes in Orthodontics for Your Child
Orthodontic treatment is a very important part of your child's oral health care. When jaws and teeth line up correctly, they are able to function as nature intended. This promotes oral health and general physical health. That orthodontic treatment also helps create an aesthetically beautiful smile for life. A solid resource for parents common questions is the AAO Parents Guide to Orthodontics for Children We also have a helpful resource on our website to help prepare everyone for Your Childs First Orthodontic Appointment
How Does Orthodontic Treatment Help Children?
Orthodontic treatment will help your child bite and chew and contribute to clear speech. When their teeth function properly the achieve a strong, balanced appearance. An attractive smile is a result of orthodontic treatment, and can do wonders for confidence. Self-confidence and self-esteem may improve as orthodontic treatment brings teeth, lips and face into proportion. Straight teeth are less prone to decay, gum disease and injury.
Most orthodontic problems are inherited. Some are "acquired," developing over time by sucking the thumb or fingers, mouth breathing, dental disease, abnormal swallowing, poor dental hygiene, or early or late loss of baby teeth, accidents and poor nutrition. Sometimes an inherited orthodontic problem is complicated by an acquired problem. Whatever the cause, orthodontists are usually able to treat most conditions successfully.
All Kids Should Get A Checkup with an Orthodontist No Later than Age Seven
To have a healthy smile that's good for life®, your child needs teeth and jaws that are properly aligned. The American Association of Orthodontists (AAO) recommends that your child get a checkup with an orthodontist at the first recognition of the existence of an orthodontic problem, but no later than age seven. By then, your child has enough permanent teeth for an orthodontist to determine whether an orthodontic problem exists or is developing. Putting off a checkup with an orthodontist until a child has lost all baby teeth could be a disservice. Some orthodontic problems may be easier to correct if they're found early. A checkup no later than age seven gives your orthodontist the opportunity to recommend the appropriate treatment at the appropriate time. If early treatment is in order, the orthodontist may be able to achieve results that may not be possible once the face and jaws have finished growing.
Creating Generations of Smiles Through A Legacy of Personal Care and Heartfelt Service!
Dr. Jennifer L. Martin and our team love transforming lives, one smile at a time. We work one-to-one with each patient to determine their clinical needs and care goals, and then develop individual treatment paths to create their healthy new smile. We appreciate parents who understand the importance of getting their children a proper start towards a lifetime or oral & orthodontic health.
We offer complimentary consultations for you and your family at our Pleasant Hill, CA orthodontic office, serving Martinez, Concord, Walnut Creek and Lafayette. Please call to learn more and schedule your consultation, today.
Dr. Martin and everyone at Jennifer L. Martin, DDS, look forward to welcoming you to our practice. We would love to develop a long-term relationship with you, while making the beautiful smile of your dreams a reality!
Jennifer L. Martin, D.D.S.
401 Gregory Lane, Suite 126
Pleasant Hill, CA 94523
Phone: (925) 676-8485
Leave a Reply