"Am I Too Old for Invisalign Treatment?"
In short, no, you are never too old for orthodontic treatment as long as you have healthy teeth and gums. Orthodontists are experts in orthodontics and dentofacial orthopedics – properly aligned teeth and jaws – and possess the skills and experience to give you your best smile.  According to a recent study conducted by the American Association of Orthodontists (AAO), adult (18 years+) patients now outweigh teens/kids in treatment.
As a part of looking healthy and with the understanding that on-camera meetings are here to stay, you may be curious about straightening your teeth.
A common misperception is that you may be too old for orthodontic treatment or your situation is too difficult to consider treatment but this is not the case. The deciding factor on whether a patient is a good candidate for treatment is the health of their teeth and gums not their age.
For some adults to reach optimal dental health, your dentist and orthodontist will work in partnership and may need to call in other dental specialists such as oral surgeons, periodontists, and endodontists.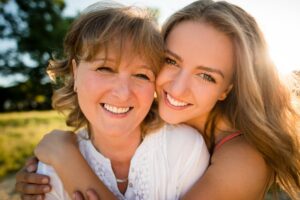 Pleasant Hill's Martin Family Orthodontics has been a top choice for East Bay & Pleasant Hill families for generations.  In the past, orthodontic treatment was associated with children and teens, but today many adults seek orthodontic treatment to correct long-standing problems, or problems that stem from maturational changes. Orthodontists can help people of any age achieve a healthy and beautiful smile.
Invisalign treatment with invisible and removal trays gradually reposition misaligned teeth without the inconvenience and discomfort of traditional wire braces. As you progress through the Invisalign trays and improve your bite alignment, other significant health advantages are taking affect.
Dr Jennifer Martin can map out your new smile using 3D images taken by the iTero Element scanner. from there, you'll get a custom treatment plan that's right for you.  The entire team at Martin Family Orthodontics will be with you every step of the way towards a healthy & bright smile!
Can We Schedule Your Appointment Today?
We offer complimentary consultations at our Pleasant Hill, CA orthodontic office, serving Martinez, Concord, Walnut Creek and Lafayette. Please call to learn more and schedule your consultation, today.
Dr. Martin and everyone at Jennifer L. Martin, DDS, look forward to welcoming you to our practice. We would love to develop a long-term relationship with you, while making the beautiful smile of your dreams a reality!
Jennifer L. Martin, D.D.S.
401 Gregory Lane, Suite 126
Pleasant Hill, CA 94523
Phone: (925) 676-8485
Email: martinorthodontics@att.net
#MartinFamilySmiles #Invisalign #Braces #Orthodontist #EastBay #PleasantHill #Best #Dentist #2022 #Braces #ClearAligners #AAO #Questions #WorldCup2022 #Niners