The year is coming to an end, and it's time to remind all of our patients to use their Flexible Spending Account (FSA) savings before you lose it!
As the year comes to an end, we want to remind all of our patients to use their Flexible Spending Account (FSA) savings before it's too late. If you have money in your FSA, it will not roll over into the next year, so be sure to take advantage of it before it's gone! At Jennifer Martin Orthodontics, we recommend using your FSA dollars to get started on Invisalign® treatment. Invisalign is a great option for patients of all ages and has been used to treat entire families at our practice. Keep reading to learn more about Flex Spending Accounts and how Invisalign may be the right choice for you.
That's right-if you have money in your FSA it will not roll over into next year. If you've been considering Invisalign® treatment, using your FSA dollars would be an excellent way to get started. Jennifer Martin Orthodontics uses Invisalign for patients of all ages, and has even treated entire families!
Read on to learn more about Flex Spending Accounts, and if Invisalign may be right for you.Using Your Flex Spending Account Wisely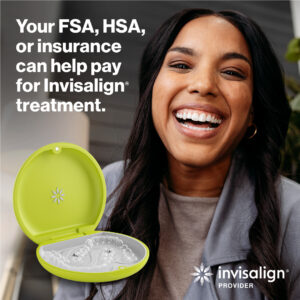 The first thing to do is make sure that you do have a FSA, and verify how much you have saved over the year. Once that is done, schedule with your Orthodontist to see if your FSA is enough to cover the treatment you need, and if not, make a plan to come up with the rest out of pocket.
Your FSA can be used for a variety of Dental and Orthodontics procedures. Some people are under the mistaken impression that FSA cannot be used for Orthodontics treatment, but that is not necessarily the case.
The general rule of thumb is that FSA's cannot be used for anything considered strictly cosmetic. For example, teeth whitening would not be covered under your FSA.
The most important thing about a FSA is planning ahead. You want to know ahead of time how much you need to set aside for your desired treatment. If you don't have a FSA but think you will be need one in the future, now is the time to contact your Insurance Provider to set one up.
Using your Flex Spending Account for Orthodontics
Many Orthodontic procedures go far beyond the aesthetics. Straight, even, properly aligned teeth are crucial for the overall health and wellness of your mouth, as well as the rest of your body further on down the road.
Invisalign and orthodontics aren't just for teenagers, adults can benefit just as much-sometimes even more so.
If you do have a FSA account that you need to use up, and you've considered Invisalign treatment in the past, this is a perfect opportunity for you to achieve both of those things at the same time.
If you don't have a FSA and would like to, call your Insurance Provider before the year is over, and get it set up for next year. It's never too soon to start planning for your future health and well-being.
If this seems confusing, don't worry! Experts are standing by at Jennifer Martin Orthodontics to answer any questions you may have.
Schedule with Jennifer Martin Orthodontics Today
Jennifer Martin Orthodontics is a family friendly practice-they treat patients of all ages. Dr. Martin purchased the business from her Father, and literally grew up in this office! Many of her current patients have parents who were treated here in the past-it's truly a Legacy Practice.
For that reason, family and community matter here. You will never feel like "just a set of teeth"-the team here really takes the time to get to know their patients, and to understand their goals and reasons for treatment.
Located in Pleasant Hill, Jennifer Martin Orthodontics treats patients from Walnut Creek, San Ramon, Martinez, and all of the surrounding communities. Don't lose those FSA dollars, Schedule your appointment today at (926) 676-8485 and start improving your smile tomorrow!